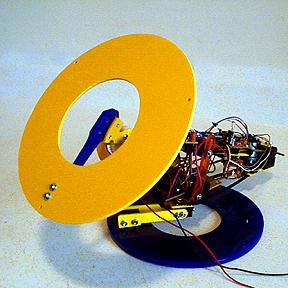 I started this project about three or four months ago.

Because a lot of people have expressed curiosity, I decided to put up these pages despite the fact that it is unfinished. These pages are especially for a certain pal o' mine in Chicago.
It had been well over a decade since I had done any programming in Basic, and even longer since I had taken electronics in High School. Even worse, building a robot from scratch means learning about "cleaning up" power supplies (yawn,) motors (better,) properly crimping connections, electronic communication, levers, and gears & stuff you wouldn't think even existed.
Honestly, I didn't expect it to be such a difficult thing to do. I have done so much research on the subject that I have accumulated a three foot pile of manuals, books, printed web pages, information about different plastics (delrin is king) and chip data sheets.
These here are my absolute favorite web sites on robots. For inspiration, my fav is MIT. They have been building both a robot fish which actually swims like a fish and a tiny robot dinosaur. Both these sites have cool movies you can download to see the robots in action. For homebrew technology, the Seattle Robotics Society has the hands down best how-to information anywhere. Recently (2009) I decided to start my own blog on robot vacuum cleaners like the iRobot Roomba.
In the meantime, I have burned out an LED or two, a bunch of transistors, an IR sensor package, a couple chips, and have gone through quite a few inadequate motors. The design is being carried out modularly, building sections, doing programming, and making sure they work to spec (i.e. reliably and with more than enough power) while assembling.
The truly distubing thing is reading web pages by people who, in a couple weeks, have created robots that can climb up your curtains, respond to spoken commands, and avoid rubber balls thrown by their little sisters while simultaneously tracking and shooting down house flies with a CO2 laser, all with tinker toys, a 9 volt battery and Radio Shack DC motors.
Although it isn't anywhere near as sophisticated, EL BO is packed with lots of bells and whistles, and will be easily programmable for other light-based behaviors. Due to its modular design, it will also be easily upgraded with other motors, sensors, and power sources. Below are links to different sections (with photos) of the robot design as it stands now. I have tried to keep most of the explainations simple, while at the same time, throwing in a bit of jargon and technicaleze for other roboticists, programmers, and technophiles.